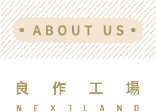 Nextland is the first pork processing factory that opens to the public in Taiwan.
Here you can "see" how pork is sliced and pro-cessed before sending to supermarkets. By integrating scientific knowledge and creative elements into our gallery and DIY activi-ties, we want you to know more about your daily food via playing and experiencing! And there's more – we also made the Taiwan-ese agriculture stories into a picture book named "Ryoko and her piggies". Want to know more about these lovely characters and where you get all these food from? Come to visit us and you will have a wonderful experience and a fascinating journey.
With more than 30 years of experience in livestock industry in Taiwan, we continuously focus on animal health and healthy food to support the farm-to-table life style. We don't dare to show you the transparent process of our pork processing procedures. Instead, we would like you to take a closer look and get to know more about how to choose good food. To better serve the public, we carefully choose the feed, the breed, the procedure and the cold-chain transportation. The careful choice of all components reflects the quality and tasty of our product – and we are proud to present the CHOICE PIG! We hope you can enjoy all the gour-met food, health life and dining pleasure anytime anywhere!

No. 57, Fengtian Rd, Dapi Township, Yunlin County, Taiwan 631
Get directions to the Museum
GPS: N23°38.383'E120°27.993'

By Taiwan High Speed Rail(THSR)
Take THSR to Yulin Station. Take Taisi-bus No 7701 to

Shigui Station (about 40 minutes). Followed the sign and walk to the museum (about 10 minutes)

By Train

First take TRA to Dounan Station and you can choose to take a local train or a bus:

Transfer to a local train to Shigui Station (about 20 minutes). Followed the sign and walk to the museum (about 10 minutes)
Tansfer to a local bus (Taisi-bus No 7701, Yuanlin-bus No 6680 or Chiayi-bus No 7701) to Shigui Station